MUSIC

New album with Fabulous Thunderbirds frontman, Kim Wilson, coming soon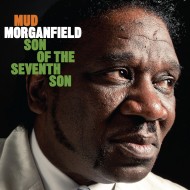 Son of the Seventh Son is the award-winning Severn Records label debut from Larry "Mud" Morganfield, son of the legendary Muddy Waters. Severn Records is distributed nationally by City Hall Records. Recorded in Chicago and produced by Bob Corritore, Son of the Seventh Son features Mud Morganfield's earthy, soulful vocals backed by a cadre of blues all-stars, including Kenny Smith on drums, Rick Kreher and Billy Flynn on guitar, Barrelhouse Chuck on keyboards, E.G. McDaniel on bass, and Harmonica Hines and Bob Corritore on harp.
"I just couldn't have done this without those cats, man," Morganfield told writer Terry Mullins in an interview published in Blues Blast Magazine. "They brought something to the studio that will forever live in my heart. It brought out the best in me. It's a great CD, some of the best work I've done so far. It's got one great song after another on it. "There's two songs of pop's on there and with anything I do, I'm gonna add pop," Morganfield said in the interview. "But the rest of the disc is made up of several songs that I wrote, along with a song that Bob Corritore wrote and one my good friend Studebaker John wrote. But it's all got that Muddy style to it, because that's who I am. Without me even trying, I come off like the son of Muddy Waters and I'm proud that it's like that."
At the annual Blues Blast Awards Son of the Seventh Son won "Traditional Blues CD of the Year" and Mud also won the "Sean Costello Rising Star Award".