WELCOME
To the website of Chicago Blues singer Mud Morganfield, son of Muddy Waters and Mildred McGhee.
Mud's latest album is They Call Me Mud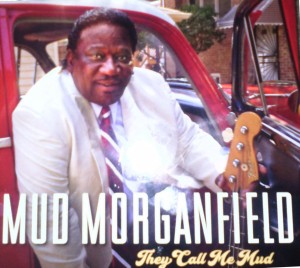 Produced by Mud Morganfield and Rick Kreher
The Prince of the Blues. Ladies and Gentlemen I give you my friend and buddy from the hood…mud Larry Mud Morganfield. I said all that to say all this, his newly released CD just in time for Black History month will know you the F$#K out yo chair, 12 song CD majority written by Mud himself will make the DJ say, if you can't dance just pat yo Got Damn Foot!
Featuring
Mud Morganfield                      vocals & bass
Rick Kreher                              guitar & backing vocals
Billy Flynn                                guitar & backing vocals
Studebaker John                     harmonica & backing vocals
Sumito Ariyo Ariyoshi              piano & backing vocals
E.G. McDaniels                       bass & backing vocals
Melvin "Pookie Stix" Carli       drums & backing vocals
Lashunda Williams                 vocals
Anne Harris                            vocals
Mike Wheeker                        guitar
Billy Branch                            harmonica
Bryant "T" Parker                   percussion
Phil Perkins                            trumpet
Michael Jackson                    sax
Enjoy songs like;
THEY CALL ME MUD
48 DAYS
CHEATIN' IS CHEATIN'
WHO'S FOOLING WHO?
HOWLING WOLF
24 HOURS
WHO LOVES YOU
OH YEAH
CAN'T GET NO GRINDIN'
ROUGH AROUND THE EDGE
WALKIN' CANE
MUD'S BROOVE

Mud is proud to have won the Living Blues Album of the Year award – see here.

In August 2012, Mud appeared on stage in Chicago with British actor and Blues icon Hugh Laurie. Recently, footage appeared in the television show "Hugh Laurie – Copper Bottom Blues" – here.  Mud 's live dates are here.
Mud was honoured to have been nominated in the Best Album and the Traditional Blues Male Artist Album categories of the 2013 Blues Foundation Blues Music Awards here. On this occasion, Mud didn't win – but he will be back! Mud would like to congratulate the winners of the awards.
Mud was featured in Classic Rock The Blues magazine and it referred to Mud's "excellent" Son of the Seventh Son album and says his "intense but seemingly effortless delivery makes the material feel fresh and vital."
Mud capped a great 2012 with appearances on the iconic British music show Later… with Jools Holland on 20th and 23rd November 2012 – see the video page, plus being featured in Clash Music here (with an exclusive video).
Mud's album 'Son of the Seventh Son' made the Top 50 albums of 2012 for Classic Rock – the Blues magazine and About.com's best Blues albums of 2012 in addition to its two Blues Blast awards.